Robin Hood Farm, Brompton on Swale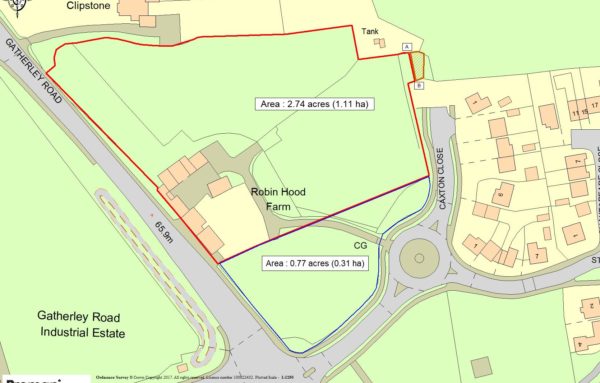 Address: Robin Hood Farm
Brompton on Swale

Key Features:
Sold March 2018
Detached Five Bedroomed Dwelling and Established Grassland
Outline Planning Consent for upto 32 dwellings and retention of existing residential dwelling. 
Sold in May 2018
The property is situated on the north eastern extremity of the Village of Brompton on Swale, with access leading from Gatherley Road.
To the west lies the Gatherley Road Industrial Estate and to the east a substantial new housing development completed by Persimmon Homes in the 1990's. Adjoining the property to the north west is land which has been identified for a further 250 new homes in the Richmondshire Local Plan.
Scope of Project
Fordy Marshall were invited by the owner of Robin Hood Farm to review the development prospects of their smallholding situated on the Northern edge of the village Brompton on Swale. The property included a fine 5 bed refurbished farmhouse, outbuildings and land extending in total to some 2.86 acres.
The land offered some strategic potential for delivery of alternative means of access to adjoining land to the east, already identified in the Richmond shire Local Plan as a housing allocation.
Fordy Marshall assisted the owners with appointment of appropriate consultants to run their own planning application for their property, including P and HS Architects and England and Lyle Planning consultants. Fordy Marshall acted as Project Manager in overseeing the application, scheme design and viability, helping to deliver and outline consent in June 2017 for 32 new dwellings and access road leading to the adjoining development land.
The site was offered to the open market in September 2017, with a targeted approach to key developers and purchasers. Terms were agreed in December 2017 and contracts were exchanged in March 2018.
All descriptions, dimensions, areas, reference to condition and other details are given in good faith and believed to be correct but intending purchasers / lessors should satisfy themselves as to the correctness.
Property Brochure