Register House, Zetland Street, Northallerton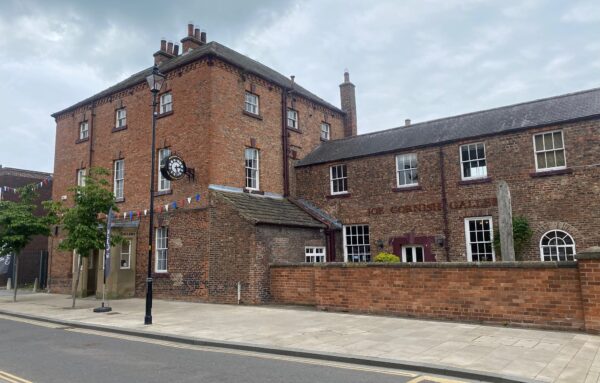 Price: Offers in region £550,000 exclusive
Address: Zetland Street,
Northallerton,
North Yorkshire
DL6 1NA

Key Features:
Substantial Landmark Town Centre Property
Currently in use as Renowned Art Gallery and Cafe
Offices on upper floors and Annexe with 1 Bed Residential Apartment
Historic Georgian Building with Many Fine Period Features - Listed Grade 2
Private Car Parking for 7 cars
Location
The property is prominently located in the heart of this attractive and busy North Yorkshire market town. Northallerton holds an important place as the County Town for the largest County in England, and home to both North Yorkshire County Council and the newly formed Unitary Authority of North Yorkshire Council. It not only serves an established local population, approx. 16,000 (2001 Census) but also an important administrative centre for the rest of the County.
Zetland Street is the principal pedestrian and vehicular connection between the High Street to the west, and East Road to the east, and has recently been subject to major street scene improvements, and partial pedestrianisation, following the major multi million redevelopment of the former HM Prison on East Road, now known as The Treadmills. Zetland Street has therefore become a central conduit between the High Street and Treadmills, a development project part owned and funded by Hambleton District Council, which comprises a high-quality mix of retail, restaurants, Multiplex cinema, cafes residential and tech hub.
Description
Register House comprises a substantial Grade 2 Listed Georgian building, dating back to circa 1736, with later additions.
The original part of the property is arranged over 3 storeys. To the east is a 2-storey annex, dating back to the 19th century, with the most recent addition, built in the late 20th Century, comprising a 2 storey extension to the south side.
Externally the building has its principal pedestrian access from Zetland Street. There is an enclosed walled courtyard at the front of the annex building, with a further pedestrian access. The newer extension has a garage door access for a vehicle, if required, and a separate access to a self-contained one bedroomed first floor residential apartment. Vehicle access is at the eastern end of the property, which is shared with the adjoining property, leading to the rear of the building, where there is a tarmac surfaced car park capable for accommodating approx. 6 or 7 cars.
Register House was first built as a Registry Office and later converted into a residential dwelling for use by the Registrar. Since that time it has accommodated various changes in use, and adapted to meet occupational demand by subsequent owners. During the last 25 years or so, and just prior to the current owners purchase, it was in use as a Funeral Directors, which included chapel of rest, offices and a residential apartment at Second Floor.
The existing use by The Joe Cornish Gallery has become a well-established and much-loved venue within the town over some 18 years and has incorporated at its heart an excellent art gallery showing and retailing both photography and paintings across various parts of the building, together with what is now a busy café serving hot drinks and food. Other parts of this substantial building include individual offices at first and second floor, warehousing/packing within the ground floor extension, and also a very useful one bedroomed self-contained residential flat, which has periodically been used by the owners as well as staff.
For ease, we have summarised the various parts of the property as follows:
Main Building & Annex
• Ground Floor: Entrance hallway, café, dispensing kitchen, Gallery, Lounge/sitting area, Shop/Retail area, Office, store.
• First Floor: Office/Gallery Rooms x 2, Kitchen/Staff Room, Long Gallery
• Second Floor: Office Rooms x 4, Stores x 2
Newer Extension
• Ground Floor: Packing Room, Stores/Garage, Kitchen
• First Floor: Self-contained residential flat, incorporating Kitchen, Sitting Room, Bathroom and bedroom.
Site Area
The overall site area extends to approx. 0.185 acres (0.075 Ha) as shown for identification purpo9ses only outlined in red on the enclosed OS Promap.
Tenure
The property is registered Freehold with Title Number NYK249436 and will be offered for sale with vacant possession on completion.
The property will be sold subject to the rights, reservations, obligations and title as otherwise referred to within the registered title. Title documentation is available on request or to download.
Should any intending purchasers wish to discuss options to leaseback parts of the property to Joe Cornish Galleries, then that option is something the Vendors would be willing to consider.
Services
The property is understood to be connected to mains water, electricity, gas, telecoms and foul drainage.
Prospective purchasers are advised to make their own enquiries of the service providers as to the availability and capacity of mains services The agents are unable to offer any assurances to the extent of supply or condition of services or their connections.
Planning and Development
It is the agent's opinion that Register House offers intending purchasers the opportunity to consider a variety of potential alternative uses and conversion options, subject of course to all required statutory consents having first been secured. This would include both Planning and Listed Building consents, as well as Building Regulations.
Planning Policy is currently as set out in the Adopted Hambleton District Council Local Plan and is relevant in so far as that might impact on the chances of achieving any required change of use, or any variations/development options for the Property.
The recent planning history includes:
10th Dec 2000 – Appeal upheld for conversion of offices to funeral Directors, providing overnight accommodation for the bereaved, new covered garage area to rear and minor interior alterations. (Ref: 2/00/110/0657D)
19th Oct 2001 – Planning granted for alterations to existing office to form funeral Directors premises as amended. (Ref:2/01/110/0657E)
7th June 2002 – Listed Building Consent granted for internal alterations to existing funeral directors. (Ref: 2/02/110/0657H)
19th April 2005 – Planning and Listed Building Consent granted for alterations to use as art gallery.(Ref: 2/05/110/0657P)
2nd April 2013 – Planning and Listed Building Consent granted for external alterations to existing gallery to include a café. (Ref: 13/00146/LBC)
21st Dec 2016 – Planning and Listed Building Consent granted for change of use of unoccupied
residential flat to a workshop space for existing business. (Ref: 16/02044/FULL)
21st Dec 2022 – Planning and Listed Building Consent for demolition of boundary wall and replacement with glass and oak balustrade on brick dwarf wall. Alterations to yard area. Alterations to entrance porch to include new signage. Remedial works to windows, roof and existing pointing. Remove and replace cast iron rain goods. (Ref:22/02494/FULL)
The existing uses include a variety of use classes, incorporating retail, café/restaurant, offices, warehouse, art gallery and residential. Intending purchasers must satisfy themselves in so far as any changes of use or possible intensity of one or more of those uses.
The most recent planning consent, dated 21st December 2022, permits changes to make the front garden/courtyard area more useable for exterior use by the café, with major alterations to the front wall and surfaces to the cobbled courtyard. Other upgrades and repairs are incorporated for the windows and rainwater goods. This work has not yet started, and hence the consent is yet to be implemented, but clearly this would assist a new buyer, should they deem it appropriate, to vary the courtyard as well as general upgrades and maintenance to this Listed building.
EPC
As the property is registered as Grade 2 Listed it is currently exempt for provision of an Energy Performance Certificate.
Guide Price
This substantial property is offered for sale via private treaty, unless directed otherwise at a guide price of 'Offers in region' £550,000 plus VAT, subject to contract only.
VAT
The property has been elected for VAT, hence the Purchase Price will be subject to VAT.
Anti Money Laundering
A successful bidder will be required to provide certain identification documents and proof of origin of funds in order to comply with Anti-Money Laundering legislation.
Further Information and Viewing
All viewings are strictly via prior appointment with the sole selling agents.
All descriptions, dimensions, areas, reference to condition and other details are given in good faith and believed to be correct but intending purchasers / lessors should satisfy themselves as to the correctness.