Allotment Gardens and Grazing Land at Great Ayton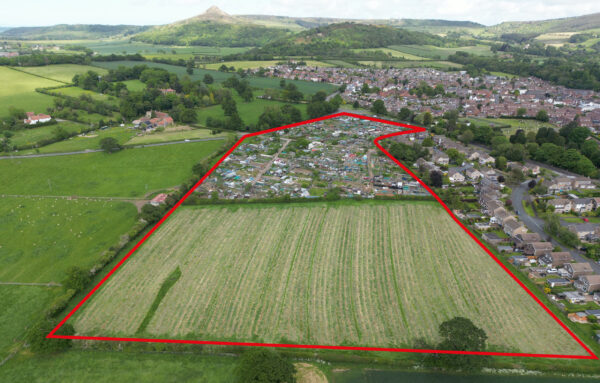 Price: Offers over £250,000 for Lot 1
Offers over £195,000 for Lot 2
Offers over £445,000 for whole
Address: Middlesbrough Road, Great Ayton, North Yorkshire TS9 6DR
Key Features:
Total of 18.18 acres (7.412 Ha) offered as whole or in 2 Lots
Edge of Settlement Land with Potential Strategic future Development Potential
Land at Great Ayton, currently let as Allotment Gardens and Grazing
Approx 18.18 acres (7.412 Ha) with parts offering potential for longer term residential development, subject to planning.
To be sold as a whole or in 2 Lots:
Lot 1 Allotment Gardens – Approx 10.34 acres (4.239 Ha)
Lot 2 Grazing Land – Approx 7.84 acres (3.173 Ha)
Offers invited by informal tender on or before 12 noon on Friday 20th October 2023
Location
The property is located at the junction of the B1292 and A173 Guisborough Road on the north-western fringe of Great Ayton, a large and attractive service village located at the foot of the Cleveland Hills, approximately 2 miles northeast of Stokesley and 8 miles south of Middlesbrough.
The village has become increasingly sought after in recent years as a prime residential location serving the wider Teesside and North Yorkshire area, offering attractive central village green, some fine period houses, and many local services including CoOp foodstore, variety of other convenience shops, Pharmacy, Post Office, several pubs, Petrol Station, library, Doctors Surgery, and a highly rated Primary School. It is situated within rural surroundings, adjoining the North York Moors National Park and is a main centre of public services for a number of smaller villages in the area.
Description
The property comprises established allotment gardens to the northern parts, and undeveloped grassland to the south side. covering an overall area of approximately 18.18 acres (7.412 ha).
The allotments gardens were first established in this location in the late 1980's and have been managed during that period by Great Ayton Parish Council, who offer plots of differing sizes on annual fee arrangements. The gardens come in various shapes and sizes and are generally used for the growing of fruit and vegetables and other horticultural purposes by local residents of the village. Access to the allotments is via an unmade gravel track leading from Middlesbrough Road to the north, as well as a secondary access via Scottowe Crescent to the south.
The grassland is situated to the south west of the allotments, and borders onto residential housing forming the western edge of the village. Access is via a field gate from Middlesbrough Road, along an access strip bordering the allotment gardens. The grassland is surrounded on 3 sides by mature and established hedging, with some mature trees. To the southeast where it adjoins the houses served by Road, the land is bordered by the rear gardens and has a variety of boundary features.
The land is to be offered for sale in 2 Lots as follows:
Description OS Field No Acres Ha
LOT 1 – (Outlined Red)
Allotment Gardens Part 0039 4.33 1.809
Part 7738 6.01 2.43
Sub Total 10.34 4.239
LOT 2 – (Outlined Blue)
Grassland 6263 6.99 2.829
Part 7000 0.85 0.344
Sub Total 7.84 3.173
TOTAL 18.18 7.412
Planning
The land is situated within the recently formed North Yorkshire Council (previously part of Hambleton District Council). From a Town Planning perspective, legislation is still as set out within the adopted Hambleton Local Plan (Feb 2022) at present, but that is expected to be reviewed within the next few years as the new Unitary Authority will be preparing a new Plan.
The land is identified within the Local Plan as having two allocations. The allotments are designated as falling within Policy IC3 – Open Space, Sport & Recreation/Local Green Spaces, and within Policy E4 – Green Infrastructure Corridor. The pastureland is only allocated within Policy E4.
Policy E4 states that its purpose is 'to set the Council's approach to ensuring that green infrastructure is protected & where possible enhanced.' They see this as of particular relevance where the land allocation adjoins existing built environment/residential amenity areas.
Policy IC3 states its purpose is 'to Protect & enhance open green space, outdoor recreation facilities, allotments & areas of garden land that provide amenity value'. Whilst there are cases where the Local Plan will permit development within areas designated under IC3, there is a further tier of restriction associated with those areas of land specified as 'Local Green Spaces', as listed within Appendix D of the Local Plan under the flowing references:
ALT/S/058/028/G – Land adjacent to A173 & B1292, Great Ayton
ALT/S/058/029/G – Allotment Gardens, B1292, Great Ayton
Prospective purchasers will be required to carry out their own due diligence and satisfy themselves as to existing and future planning potential for these land parcels.
Title
The land is held under registered Freehold title: NYK482735. It is to be offered for sale freehold, subject to the three occupational leases referred to below.
Tenure
The land is currently let on 3 separate leases, as follows:
Lot 1 – Allotment Gardens.
Lease A
Lease Date: 13th May 1988 (Subject to Deed of Variation dated 21st April 2023)
Landlord: Original Landlord George Anthony Marwood
Tenant: The Parish Council of Great Ayton
Commencement: 6th April 1989
Term Duration: Year to Year
Termination: Either Party may terminate the lease at the end of any year of the tenancy on giving not less than 12 calendar months' notice.
The Demise: Plot of land comprising Part OS Field No's: 0039 and 7738 extending to approx 4.2 Ha (10.25 acres) (As Varied)
Rent: £500 per year, payable in equal half yearly instalments, in arrears on 6th April and 11th October.
Rent Review: No review provisions.
Repairing/Outgoings: Keep in good repair throughout the term
Use: To use only as allotment gardens. Tenants shall not house or store motor vehicles.
Provisos: If the LL requires the property back, or any part, for road widening, or road improvement, or development, and shall give the Tenants 6 months' notice determining on 6th April or 11th October in any year then on expiry of that notice the agreement will terminate, in respect of the whole or part thereof as specified.
Lease B
Lease Date: 21st April 2023
Landlord: David Marwood, Alison Wyncoll & Deborah Marshall
Tenant: The Yatton House Society
Commencement: 21st April 2023
Term Duration: 5 years
Termination: LL may terminate the lease on 5th April 2024 and yearly thereafter
The Demise: Plot of land comprising Part OS Field No: 0039 extending to approx 0.035 Ha (0.08 acres)
Rent: £2 per year
Rent Review: No review provisions.
Repairing/Outgoings: Keep in good repair throughout the term
Use: To use only as garden and/or allotment facility & other associated community uses.
Lot 2 – Grassland
Lease Date: April 2009
Landlord: George Anthony Marwood
Tenant:
Commencement: 5th April 2009
Term Duration: Year to Year in accordance with the Agricultural Tenancies Act 1995.
Termination: Either Party may terminate the lease at the end of any year of the tenancy on giving not less than 12 calendar months' notice.
Holding: Land extending to approx 3.173 Ha (7.84 acres) within OS Field Numbers 6263 and 7000
Rent: £419.40 per year, payable on 5th April each year.
Rent Review: In accordance with The Agricultural Tenancies Act 1995 rent reviews can take place on a 3 yearly basis.
Repairing/Outgoings: Keep in good repair throughout the term and pay all outgoings.
Use: To use only for Livestock Farming.
Provisos: The Lease is subject to a Part Termination Limit for part of the Holding not exceeding 1.214 Ha (3 acres) per year. The right to terminate is for any purpose.
Alienation: No rights to assign or sublet, nor enter into a Contract Farming Agreement, or have on the Holding any third-party livestock.
Method of Sale/Offer Proceedure
Our clients are seeking the disposal of the freehold interest on an unconditional basis at best value.
Consideration will be given to proposals which offer overage/clawback linked to future value enhancement through variation in existing use planning and development, but the principal aim is to maximize sale receipt at this stage.
If this opportunity is of interest, please submit a "subject to contract" proposal either as an outright bid or if by way of a bid with conditions, to include the following:
1. The Purchase Price Offer.
2. Details of any proposed overage or clawback terms, should those be applicable.
3. Confirmation of any specific obligations/ conditions envisaged under the terms of the sale Agreement.
4. Confirmation of your funding arrangements/proof of funds.
5. Confirmation as to Solicitors and any other Professionals that you intend to appoint to act on your behalf.
We are seeking offers to be submitted via email to Christopherfordy@fordymarshall.com by noon Friday 20th October 2023.
Each offer should address all of the points set out above. We may wish to discuss any offer submitted in further detail and/or invite you for further discussion.
Our clients do not undertake to accept the highest bid or indeed any bid.
Guide Pricing
Offers over' £445,000 for the whole, or split between the two lots as follows:
Lot 1 – Allotment Gardens 10.34 acres – 'offers over' £250,000 (approx £24,178 per acre)
Lot 2 – Grassland 7.84 acres – 'offers over' £195,000 (£24,872 per acre)
In both cases preference will be given to bids including an element of overage/clawback linked to future development/change of use.
Viewing
Viewings can be conducted from the public highway. Those wishing to walk the site should contact the selling agents providing at least 48 hours' notice. Inspections are undertaken at your own risk.
Anti Money Laundering
Prior to any offer being accepted, the successful bidder/s will be required to provide certain identification documents and proof of origin of funds in order to comply with Anti-Money Laundering legislation.
All descriptions, dimensions, areas, reference to condition and other details are given in good faith and believed to be correct but intending purchasers / lessors should satisfy themselves as to the correctness.
Plans
Location Map
Property Brochure