Beckwith Knowle Business Park, Harrogate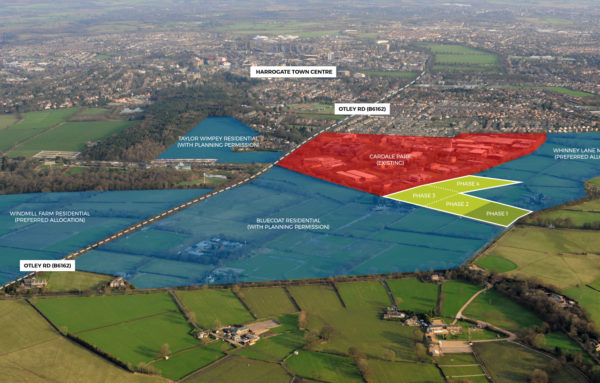 Address: Beckwith Knowle Business Park
Beckwith Head Road
Harrogate
Key Features:
Premier Business Development
Phase 1 - Allocated to NHS
Phase 2 - Allocated for Care Facilities
Phase 3 - High Spec Offices
Phase 4 - High Tech Industrial Units
About Beckwith Knowle Business Park
This important, strategically located commercial development is targeted at maintaining businesses in Harrogate, attracting new companies and providing a range of office and hi-tech accommodation. The scheme will ensure Harrogate can retain and grow its workforce both in scale and skills.
For detailed information please visit the dedicated website http://www.beckwithknowle.co.uk/
The site will potentially be developed in 4 separate Phases:
Phase 1 being 3 acres sold to the NHS;
Phase 2 being 3 acres offered as a whole or in part for Care / Extra Care development;
Phase 3 represents 3 acres fronting Beckwith Head Road, likely to be developed for Office Use; and
Phase 4 is the area immediately to the rear of Phase 3 and likely to comprise Office / Light Industrial / Hybrid Use.
Location
The site is located approximately 1.5 miles to the west of Harrogate and adjacent to Cardale Park, which already accommodates around 4,000 employees with firms such as Vp plc, Covance, Sanderson Bramall, Euro Car Parts, Munchkin, Jelf Insurance (formerly Bluefin), LDHL Group, High Street TV, Redcentric and Succession Group.
There is a workforce "on the doorstep" and as part of the development around the site there are proposals for the upgrading of the main Otley Road to the Town Centre, to the west and to Leeds. Leeds Bradford Airport lies approximately 10 miles to the south west.
It is a particularly important location on the west side of Harrogate, given the close proximity to recently consented residential development sites which will potentially accommodate c. 2,500 units over the next 3 to 5 years. Development has already commenced on Harlow Grange (Taylor Wimpey for 121 units) & Bluecoat Farm (David Wilson Homes/Redrow plus Persimmon for 600 units).
Offices
Offices will be designed and finished to a high standard, and available Freehold or Leasehold from 2,000 to 10,000 sqft.  Depending on size they will be available in a terrace, semi-detached or detached format.
Specification:
• Two Storey Office Buildings
• Full raised floors throughout
• Full double glazing
• Optional Air Conditioning
• Lift to First Floor
• Gents & Ladies WCs at Ground and First Floor
• Disabled WC at Ground Floor
• High Quality External Features to reflect rural environment
• Car Parking – 4 Spaces per 1,000 sq.ft. net
Light Industrial / Hybrid Units
Light Industrial or Hybrid Industrial/ Office Units are available either for Sale or To Let to a varying specification to suit individual needs and as such will be developed in within a terrace, semi-detached or detached format. The premises will be Designed and Developed to a High Standard to match the quality of surrounding development.
Specification:
• 2,000 to 10,000 sq. ft. Industrial/ Hybrid Buildings
• Flexible office content
• 6-9m Eaves
• Loading Doors to suit
• Full or partial Mezzanine coverage
• Double Glazing to Offices / Reception areas
• 3 Phase Electrics
Final Fit-out and Specification to be agreed pending individual requirement
Other Information
Sites are available for sale or alternatively Beckwith Knowle Developments Ltd will consider Design & Build packages for occupiers seeking to either purchase or lease premises. Given the existing Outline Planning Permission, it is anticipated that pending specification of premises, a range of Office or Light Industrial buildings could be delivered with Detailed Planning Permission and completed ready for occupation within 12 months of Contracts being agreed.
All phases are fully serviced in terms of electricity, mains water, gas, foul and surface water drainage from Beckwith Head Road.
All descriptions, dimensions, areas, reference to condition and other details are given in good faith and believed to be correct but intending purchasers / lessors should satisfy themselves as to the correctness.